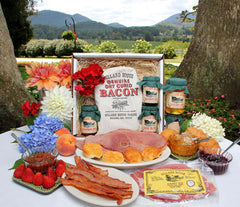 The Dillard House prides itself in offering our customer the tastiest and the most authentic, country foods available to the market.
The Dillard House is what country cooking is all about, and our country breakfast gift baskets will let you share this simple pleasure with others. Every country breakfast gift basket is full of savory food and it the perfect gift for family or friends. Each gift basket features an assortment of complimentary items that will be a treat for anyone who receives one. Our large selection of country breakfast gift baskets are stuffed with our acclaimed hams, bacon, jams, honey, butter and other delicious country foods.
Breakfast gift boxes by The Dillard House are full of our acclaimed meats, jellies and batters. We offer a wide variety of breakfast gift boxes to pick from. Choose one of our famous breakfast boxes full of relish or jelly samples, meats, bacon, pancake mix or other loved country foods. Every gift box is carefully prepared with quality, fresh gourmet food. Brighten someone's morning with one of our award-winning Dillard House breakfast gift boxes.