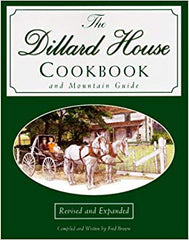 The Dillard House Cookbook is an essential resource for anyhow who loves wholesome country cooking. Stuffed full of old fashion recipes that are loved by families all over the world, you will find many creative and delicious cooking ideas. Our acclaimed country cookbook is a kitchen essential and the recipes for many or our acclaimed country foods are right inside.
Purchase our country cookbook alone, or consider our cookbook baskets and boxes for the perfect gift for a friend.
There are currently no products in this collection.